Masonry drills
Granite, reinforced concrete or marble? For every kind of stone or concrete, Stenroc offers a drill.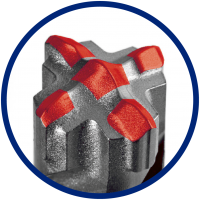 Drilling head
The shape of the drilling head influences the lifetime but also its effectiveness on the materials. A drill with more cutting edges will perform better in hard materials and reinforced concrete.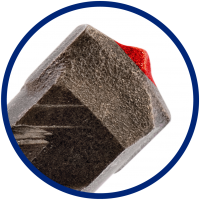 Drill tip
The tip allows precision drilling throughout the operation. The penetration of the drill makes the material friable for the purpose of being evacuated through the drilling hole.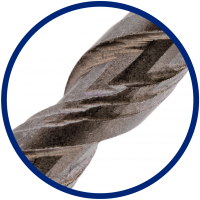 Shape flute
The shape of the helices are adapted to the diameter of the drill in order to improve the extraction of the dust.

Cylindrical shank
This shank fits every drill head.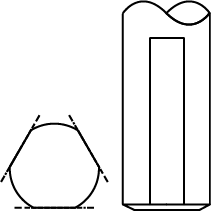 3-flat shank
This shank has a better grip in the drill head.
SDS-Plus shank
For the impact drill machines less than 5 kg.
SDS-MAX shank
For the impact drill machines more than 5 kg.
Masonry drills
Below you will find an overview of all our masonry drills.
Click on a picture and discover all the technical details.

■■■ 1° choice ■■ Recommended ■ Suitable